Everything You Need to Know About the Eiffel Tower
We are finally in the month of February, which of course is saturated with the idea of LOVE. That's why I wanted to share the first time I REALLY fell in love.
It was June 2013 and when I was in Paris "Eiffel" in love with travel. I'd love to help you with your trip to Paris by giving you details about the best time to visit the Eiffel Tower. 
The First Time I Fell in Love...
I was taking my very first trip to Europe. I had no clue what I was doing, so I bought the BEST travel book and started planning. Imagine being the perfect combination of nervous and excited!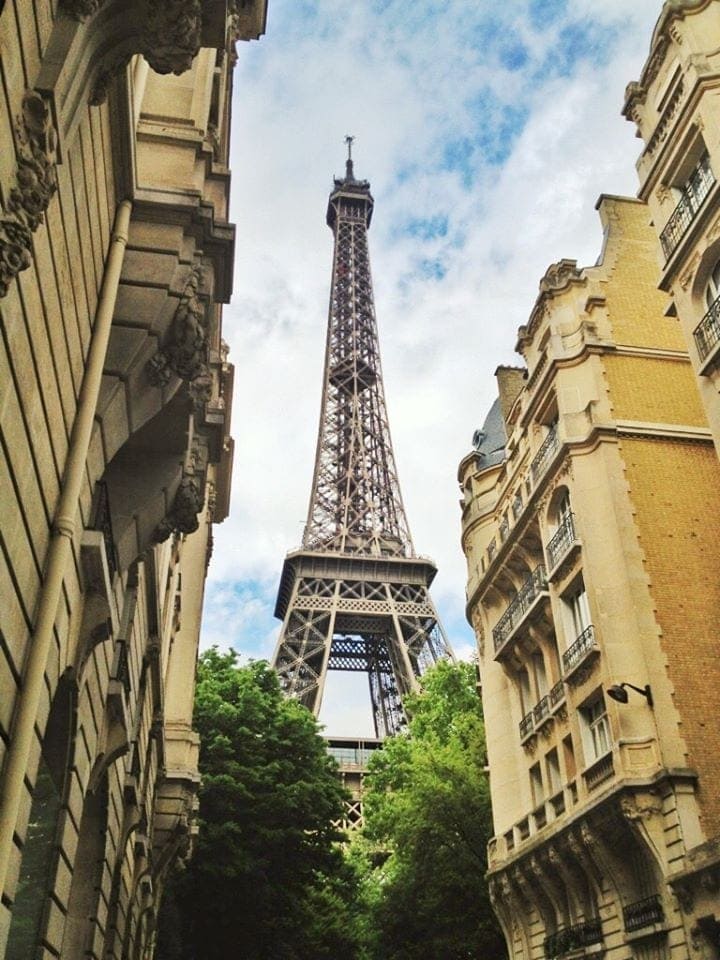 I studied French Language in high school and French Architecture in college. However, I always thought that going to France would be a really BIG dream for this small-town girl. To be honest, I still well up with tears when thinking about that first trip, which was so humbling.
Specifically what I'd like to share with you in this "February month of love" is the beauty of the Eiffel Tower and the details for experiencing it.
There have only been two sights that have actually taken my breath away. One was the first time seeing my son in his Air Force blues uniform. The other was the first time I came around the corner of a side street and saw the Eiffel Tower. On both occasions, my life felt so insanely surreal.
The post "Paris: Eiffel in Love with Travel" may contain affiliate links. That means if you click and buy, I may receive a small commission (at no cost to you). All opinions are my own and no products were received in exchange for my opinions. Click here to see details of my full disclosure policy.
Architectural History of the Eiffel Tower
I remember learning in my Architectural History class about Architect Gustave Eiffel. He was the one who won the commission to build the structure for the entrance to the World's Fair, which was being hosted by Paris. He was 1 out of over 100 entries. (Hopefully, that motivates you to give your ideas a try, even if the odds are against you.)
The structure was only intended to be temporary. It would have been taken down after 20 years if it wasn't for Eiffel's suggestion to keep it as a radiotelegraph station. As you know, it is still standing since its opening in May of 1889. It is the most visited paid-for monument in the world.
Eiffel worked with structural engineer Maurice Koechlin on the project. Here's a fun fact… they previously worked together on the Statue Of Liberty. It's hard to believe that the top spot for selfies, in the world, was once a source of controversy. They even had a petition filed for the "Protest against the tower of Mr. Eiffel". There seemed to be a discrepancy between the art and the engineering.
I remembered learning in college that the original design for the tower was very simplified and sparse. The potential design issue was that it could be visually unsettling to have such a large structure appearing that lightweight and unsteady.
So Eiffel instructed Koechlin to add more ornate flourishes. This would provide visual stability and security, although it was not deemed necessary on a structural basis.
How to Increase the Romance at the Eiffel Tower
If you're planning a visit to the Eiffel Tower, Paris, which I think is an absolute "must-see bucket list" type situation, then you will want to weigh your options of seeing it in the daytime or at night.
I'd recommend BOTH if you can! If you decide to visit during the day you can enhance your visit with a picnic in the grassy area near the base of the tower at the Champs de Mars. You can even order a picnic lunch and have it DELIVERED RIGHT TO YOU. It comes in a traditional wicker basket from Love Picnic Paris. They have four different picnic choices and a champagne add-on option. 
Paris is the city of love. Your day can't be any better than having a romantic picnic lunch at the Eiffel Tower!
The Eiffel Tower's Special Surprise at Night
If you're planning a visit to the Eiffel Tower at night you can have a romantic dinner experience at LeJules Verne – Top Of Eiffel Tower. It is located on the second floor inside of the tower.
This amazing dining experience, with the view, is sure to be a favorite memory. (Make sure to check their limited hours before you go.) 
If you are more limited on time, you can opt to visit just the first floor. For tickets to the first floor skip the Eiffel Tower line, and lunch or dinner click HERE. 
If you are there after sunset, then you are in for a special surprise because the entire tower sparkles with lights. It does this for 10 minutes, every hour, on the hour, until 1:00 am. You can see it in my video below.
Tip: I want to warn you from experience to make sure you schedule ample time for entering and exiting the tower. It always seems to take less time going up than it does to come down because they have several ways to get to the top, but only two ways down.
There is nothing in the world quite like the view of Paris from the top of the Eiffel Tower at night! 
The Best Experience Ever!
 

 

View this post on Instagram

 
Quick Links for Eiffel Tower Tickets
LET'S CONNECT: If you have been to the Eiffel Tower please tell us if you like it better during the day or at night in the comments below.