Are you looking into booking a cruise? Great news… I have an MSC Cruise review with ALL the details to help you make an informed decision. 
Recently I was able to take an 8-day Mediterranean Cruise on the MSC Bellissima. We traveled all around Spain, France, and Italy and it was a very unique experience!
Note: This is not a sponsored trip and I'm going to give you ALL the details about the good, the bad, and the ugly parts of the MSC cruise experience. 
Andrea, I just have a quick question so let's skip right to it!
The post "An MSC Cruise review with ALL the details" may contain affiliate links. That means if you click and buy, I may receive a small commission (at no cost to you). All opinions are my own and no products were received in exchange for my opinions. Click here to see details of my full disclosure policy.
MSC Cruises: Know Before You Go
MSC is a Swiss Global cruise line that stands for Mediterranean Shipping Company. 
When booking a European cruise you should expect to find multiple nationalities onboard. That means you need to be open-minded about a few things. Be aware that manners and "common" courtesies are different in various countries so be sure to extend extra courtesy to your fellow European travelers. 
If you speak English the language barrier is not a problem; however, it's important to note that this does affect the entertainment and announcements. When you are seeing a show or if there are ship announcements, you can expect to hear things repeated in multiple languages.  
MSC Cruises accommodate English speakers, but you might need to exercise some extra patience at times.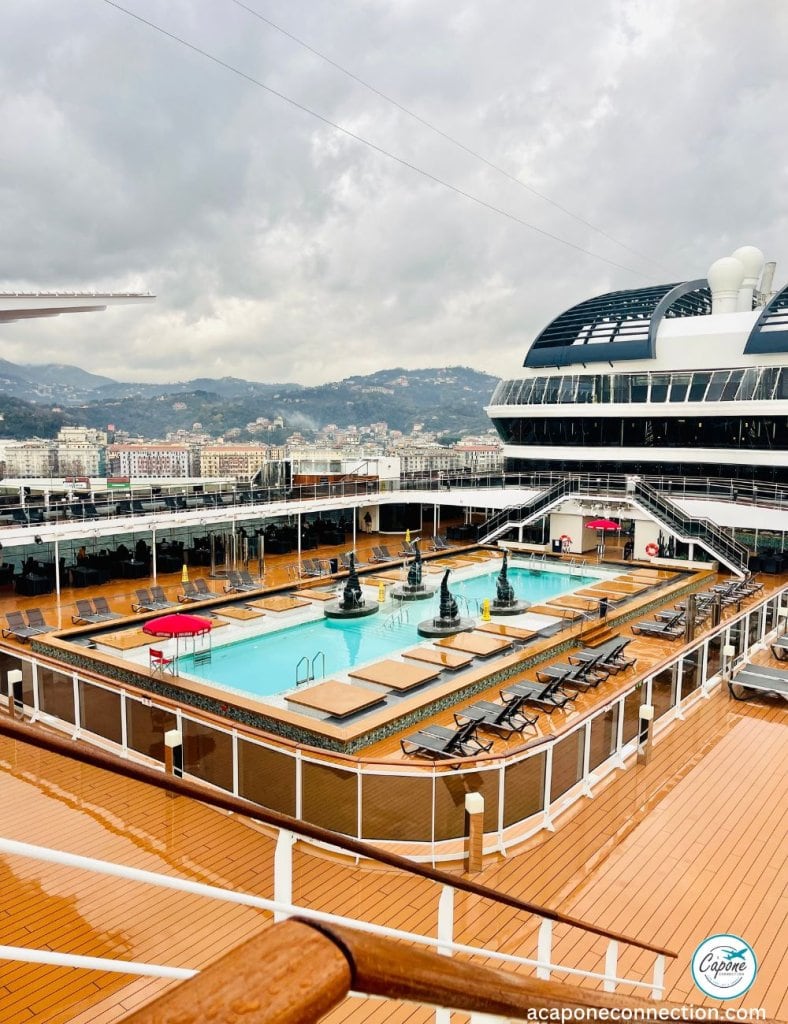 There are currently 23 MSC cruise ships in the fleet
MSC Cruises have 40+ destinations
MSC Cruises travel to 24+ countries
The dress code is a casual resort style 
MSC is the largest cruise line out of all the global cruise brands
The MSC Cruise App shows you the ship layout and helps you to book shows and restaurant reservations
Like most cruises, there are a variety of room selections. If you want a better experience, you can book a spacious suite or balcony cabin. If you want the standard experience then select a room with a sea view window or an interior room.   
The main differences in room selection:
The suites and balcony rooms are larger, have a sofa, and have the option of a shower or tub. The sea view and interior rooms are smaller and have a shower. 
Of course, if you are booking with MSC cruise lines to save money then an interior room is the cheapest way to go. They come as a double bed or you can have two single beds if you notify your room steward. Check out my video below of the interior room I had on the Bellissima Mediterranean Cruise.  
You can upgrade your experience to stay in the exclusive MSC Yacht Club on 15 of the MSC cruise ships. THIS is where you experience a higher level of luxury in your cruising experience.
With the yacht club package, you are no longer taking advantage of the ability to cruise at a discount, but rather you are looking for ALL the bells and whistles for a luxury experience. 
The MSC Yacht Club Perks:
Cabins in the yacht club are located on the top floor of the cruise ship (It is only accessible to yacht club members.)
Private decks with a private pool and lounges
24-hour butler service
Full access to the spa
Premium extra drink package
Room service 24 hours a day 
Exclusive gourmet restaurant
How do you get to the cruise ship from the hotel or airport?
PRO TIP: Arrive one day earlier than your scheduled departure!
I ALWAYS recommend arriving at your destination at least one day prior to the departure. This is because you don't know what might happen with a flight delay or cancellation. That ship is not going to wait for your flight issues to get resolved.
It's best to have the peace of mind to get to the location one day early. This is my top tip because there is likely plenty of fun things to do in the area of your cruise port. 
After you check out of your hotel you can get on the ship early and take advantage of some of the amenities prior to disembarkment. It's a great time to use the spa!
Just don't cut your time close because insurance coverage probably won't help you if you miss the ship due to your poor planning or delayed flights.  
You will need to make arrangements to get you and your luggage from your hotel or airport to the cruise port. 
GetTransfer.com is a booking service for transfers and car rentals with a personal driver at the best prices. I love that they have a best-price guarantee!
What is there to do on a cruise?
Of course, each cruise ship is different in the cruise industry. That means they will each have slightly different amenities and entertainment options. However, generally speaking, cruise ships typically have some similar basic things to do. One thing you can guarantee is that MSC will have a clean and beautiful ship for your cruising experience. 
Pools, Hot Tubs, and Water Park
One of the main attractions on cruise ships for adults is laying out at the pool deck. For children, the main attractions are the water slides at the water park. 
On your MSC Cruise ship, you will find several pools and multiple hot tubs. Usually, there will be at least one adults-only area. The MSC Bellissima has an indoor pool as well, which was great for colder days or swimming at night. 
When the ship is docked at the cruise port there are some travelers who choose not to participate in any shore excursions and they take advantage of the amenities onboard without long lines and big crowds. MSC staff and bar services still function while the ship is docked. 
One of the things that impressed me the most about the MSC Bellissima was the extensive spa area. It was my FAVORITE part of the cruise. They have a large selection of spa services including massages, facials, manicures, pedicures, haircare, and styling. 
Something I've never experienced on other cruise ships was the thermal spa area. I got a day pass to use all of the amenities in this area and it was very reasonably priced! 
Thermal Spa Area
It's the perfect place to relax in the salt room, saunas, steam rooms, and whirlpool baths. You can enjoy some quiet time in the relaxation room.
If you are brave then take an ice bath in the frigidaire. The Europeans didn't bat an eye at this option! I tried to do it but I'm a wimp and I bailed.
With a day pass you can come and go throughout the day, or you can just get a pass to use the amenities for an hour.
Typically you will have at least one full day at sea when you are on a seven-night cruise. 
I like to visit the spa during sea days. After all the stress of planning the vacation and running around on the excursions, I am ready for some spa treatments! This is one of my favorite daytime activities when we are spending a day at sea. 
PRO TIP: Book your spa treatments for your day at sea on the first day that you embark because time slots fill up quickly.
Sports, Games, and an Arcade
Various areas of the ship will be dedicated to sports. You will find a walking path, basketball hoops, and soccer goals.  
Cruise ships will usually have games like table tennis and a "cruise-sized" fun arcade. 
The arcade has fun games like skee ball, and motorcycle games, as well as other games with tickets and prizes. Aside from the arcade, the MSC Bellissima even had a cool ropes course!
One of the best parts about traveling on a cruise is the fun nightlife. At multiple bar lounges, you can expect to find various types of live music. 
You will also find a casino for adults. Try your luck at a slot machine or one of the tables.
Note: The casino does allow smoking in that area.
If this is your first cruise then you might have heard the rumors about gaining weight. I think that's because the all-you-can-eat buffet is so accessible and delicious. Oh and don't forget about the room service options.
Here's where the gym can help! I mentioned in my post about Virginia Beach that my friend works out even when she's on vacation. Luckily, cruise ships usually have REALLY great gyms with top-of-the-line equipment and beautiful views of the pool or the ocean. 
This is probably my favorite thing to do when I cruise. I love seeing all the theater shows.
There is a different show each night with three show times to pick from at 7:00 pm, 9:30 pm, and 11:00 pm. Show reservations need to be made in advance. You can make your reservation at any of the kiosks around the ship or in the MSC app. Keep in mind, you can only make a show reservation one day in advance so it's something you have to keep doing daily.
Due to the multicultural passengers, some of the music might be sung in another language or in English (with an accent.) To be honest, I found it to be endearing.
Cruises have great entertainment and it's usually included in the price of the cruise, but MSC found a way around that.
They have more than one entertainment venue. There is the main theater and a second theater with a bar inside. You have to pay to see the shows at that theater and in exchange you get a drink.
Normally I'm thoroughly impressed with how great the shows are on cruise ships, but the shows on the MSC Bellissima weren't consistently the great entertainment that I am used to from other cruise lines. They started out to be just okay, and luckily they got MUCH better as the week progressed. 
On every cruise ship, you will find a promenade in the center of the ship. This is where you can do some people watching and of course some shopping. 
There are lots of different options for shopping onboard. You can buy luxury brand clothing, jewelry, perfume, and beauty products. 
In addition to luxury shopping at discounted prices, there are also souvenirs and basic necessities you might need to purchase if you forgot something at home.
PRO TIP: Make sure you check the daily schedule for sales at the various stores.
Learn to Dance: 
Every day you can expect some sort of organized dance lesson taking place at the Bellissima Lounge on the main deck. They have lots of different types of dance lessons like Salsa and Tarantella for example. You can learn to dance or just watch! Check the daily schedule for locations and times for dance lessons.
Games: 
The daily schedule lets you know what type of organized games are available each day. There might be trivia, bingo, or other fun games to play on the ship. 
There is a dedicated kids' area with TONS of great things to do! This area is broken up into different age groups. There are separate groups for young children and teens. The teen club is for ages 15-17 years old.
Games: Kids can play table tennis, table soccer, video games, soccer, air hockey, bowling alley, VRM virtual reality games, and other games in the Sportsplex.
Virtual Race Cars: There is a fee to use the race cars, but they do have discounted prices and sales so watch the daily schedule.
IMAX Movie: You can see an IMAX movie for an extra fee. Keep an eye on the daily schedule because they have sales like buy one ticket, get one free. 
MSC Cruise Review of Food and Restaurants
The buffet is open at various times throughout your cruise, but the restaurants have very limited hours. Since the buffet is first-come-first-served, remember that if you get there later then you will have limited options. 
For evening dining you will be assigned a specific dining restaurant, table, and dining time. This is when/where you will eat dinner every evening unless you decide to go to one of the specialty restaurants.  
Although the dress code on a cruise ship is fairly casual there are restrictions in the formal dining areas. Typically, shorts, flip-flops, and tank tops are not allowed in the main dining room but they are welcomed in the buffet restaurant. 
Cruises usually have at least one formal night. That's the time that photographers are present just outside of the dining area to take professional pictures for you to purchase. 
In my opinion, this is "the ugly" part of the MSC cruise. If you didn't get a drinks package then you will have a hard time finding something to drink with your dinner. In the buffet area, there is a limited selection of free drinks but they are NOT available in the dining area.
If you would like coffee with your dessert after dinner, you will be charged. If you'd like a bottle of water with your dinner, you will be charged.
The only way that you can avoid a fee to drink with your dinner is to go to the buffet area first, get a drink, then bring it with you to your formal dinner. SERIOUSLY?! It seems as though they almost force you into one of their drink packages. 
The following drinks are free on MSC Cruises in the buffet area:
Water
Coffee
Hot Water and Tea Bags
Milk
Juices (only at breakfast)
Surprisingly, the quality of the food in the buffet area was MUCH better than the food in the main dining areas. The buffet had a ton of different sections for different ethnic foods. Although I don't care for a bustling buffet environment, they did have very delicious food there!  
As I mentioned, the basic package only includes the main dining area and the buffet.
Brutal Honesty: I didn't take many pictures of the food because it simply wasn't very photographic.
There are several specialty restaurants onboard that have MUCH better dining options… for an added fee of course. 
If you want excellent food and excellent service then you will have to eat at one of the specialty restaurants. 
Above is the Asian specialty restaurant. They have a sushi bar and a hibachi area.
Below is the Irish pub. Both restaurants have stunning decor and an excellent menus. If you are willing to spend the extra money for dining, then you should definitely eat at the specialty restaurants.   
PRO TIP: Check the daily schedule because sometimes restaurants have special sales on certain dining options.
Ice Cream:
You might be used to a cruise ship that has soft-serve ice cream in the buffet area.  After all, it's not unusual to want some ice cream when it's warm enough to be cruising.
The MSC Bellisima didn't have free ice cream. They had delicious gelato from the specialty restaurant Jean Philippe… for an extra fee.  
MSC Cruise vs Other Cruise Lines
MSC Cruise vs Royal Caribbean and Norwegian Cruise Line
If this is your first time on a cruise then you won't know any better and you might be perfectly content with the value for your experience. However, if you've previously cruised with Royal Caribbean Cruises or Norwegian Cruise Line then you might be pretty shocked.
PRICE: You will be shocked by how cheap it is to cruise with the basic package. This is a good value if you have a large family and cruising wouldn't be possible any other way. 
LOCATION: MSC Cruises have a larger number of ships sailing internationally, so that means you have more options for cruising.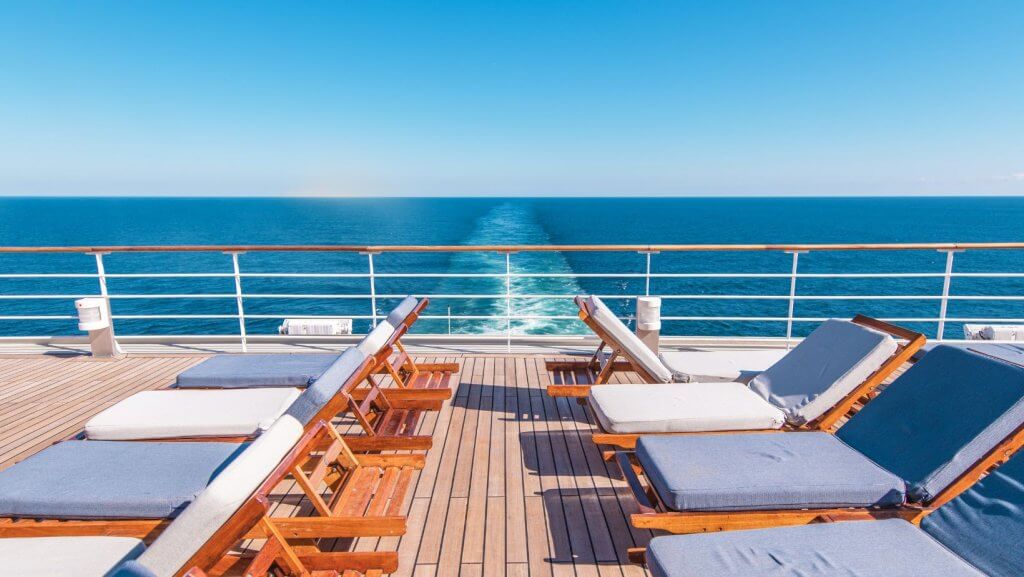 Shocked in a WELL THAT'S DIFFERENT way…
LANGUAGES: Royal Caribbean and Norwegian Cruise lines are based out of the United States so they predominately speak English. MSC is a global company in Europe and has announcements in multiple languages. 
START/STOP: MSC Cruise Line is like a hotel with people checking in/out at various times. They allow people to embark/disembark at multiple ports, unlike Royal Caribbean and Norwegian Cruise Line which is an all-or-nothing experience. 
THE SPA: Typically North Americans are used to having separate quarters for men and women in certain spa areas. This is not the case on MSC Ships. Only the locker rooms are separated. Personally, I thought it was great to be able to have all the spa experiences together.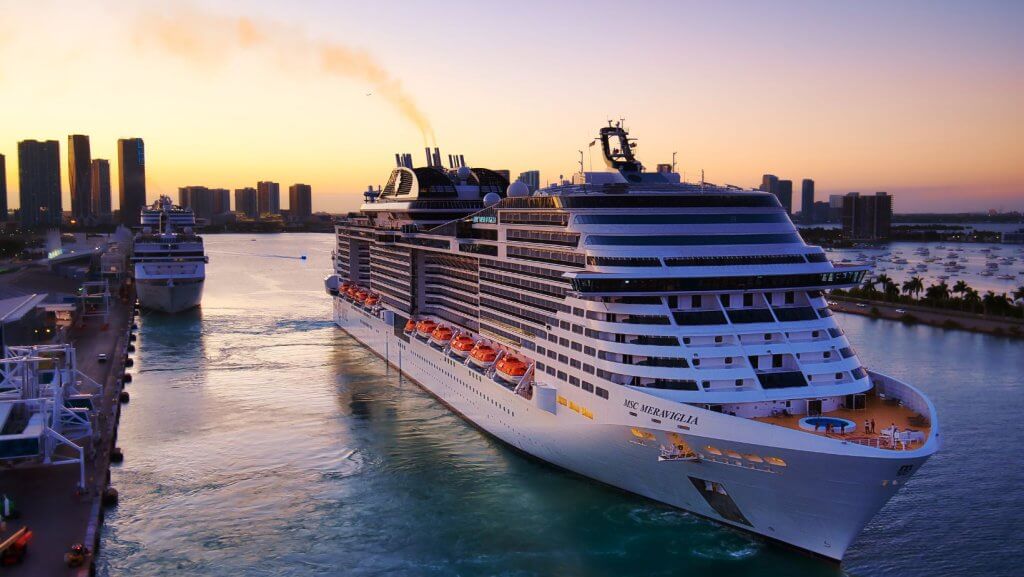 THE BASICS: You will be shocked by what is included in the basic package (or really the lack of what is included). Have you ever flown Spirit Airlines where there's an extra charge for EVERY little thing? MSC is like the "spirit of the sea". 
FOOD: Royal Caribbean and Norwegian Cruise lines are known for their exceptional dining options. The basic food package on an MSC cruise is well… very basic. If you're not a "foodie" then you have nothing to worry about. (It's "cafeteria quality" for the main dining area and MUCH better quality in the buffet area.)
ENTERTAINMENT: Due to the language barriers, the entertainment is limited to signing and dancing unlike Royal Caribbean and Norwegian Cruise Lines which have a larger variety and more Broadway-style shows. 
PRO TIP: Get a picture of the sunset when you have your full day at sea. Set an alarm so you don't forget!
Hey! Maybe you're thinking, "Dang Andrea, you know ALL THE GOOD TRAVEL TIPS!" GREAT NEWS… you can SUBSCRIBE with your email to get notified of new posts so you never miss a thing!
Frequently Asked Questions for Cruising
How old do you have to be to go on a cruise?
Typically, the minimum age to travel on a cruise is either 6 or 12 months old. On MSC Cruises the minimum age is 6 months old. 
How much cash should I take on a cruise?
You don't need to bring very much money with you on a cruise. Onboard purchases and other onboard expenses can be applied to the card you place on file. At the end of your cruise vacation, your credit card or debit card will be charged the final payment for the balance due.
You might want to bring a small amount of money for your purchases off the ship because it will help you to avoid credit card scams and foreign transaction fees from credit card companies. For example, if your credit card or bank account gets charged twice that will be more of a challenge to manage after your trip. 
I like to bring a small amount of physical cash for tipping and for small purchases and souvenirs. 
You can always withdraw money from one of the local ATM machines but there might be a substantial service charge in a foreign country.
What is a stateroom on a cruise ship?
A stateroom is a term for your room on a cruise ship. It sounds fancy to hear "stateroom" but it's essentially your "hotel room" onboard the ship. 
PRO TIP: Go to the top deck and take pictures when you pull into each port. The views are amazing!
What's the best way to communicate on a cruise ship?
You can easily call another guest's stateroom with the phone in your room, but what if you want to talk to someone who isn't in the room? Most cruise ships offer an internet package if you're up for the added expense.
If you booked your cruise with MSC because of the reduced cost then you don't want to start paying for all sorts of extras. My suggestion is to get FRS walkie-talkies! They are a great way to communicate with your party. 
If your cruise ship has wifi then you can text and make calls over wifi, but that was an upcharge of about $200.00 on our MSC Cruise. 
How do you avoid roaming charges on a cruise?
Most importantly, make sure you turn off your data roaming feature on your phone to avoid roaming charges. 
In Port or Off the Ship:
We have the T-Mobile military phone plan so all data and text messaging is included in our plan when we are not out at sea. If your wireless carrier doesn't have a reasonable international plan then you might need to get a SIM card. 
Consider using Airalo for access to eSIMs (digital SIM cards) when you are in port and disembarked on your excursions.
With eSIMs, you can download and install a digital data pack for over 200 countries/regions and get connected anywhere in the world.
What's the best deck on a cruise ship to avoid seasickness?
I don't actually get seasick but I do have a weird swaying feeling that happens when I cruise. (Imagine that you had 2 martinis. You're having a good time but your balance isn't perfect. That's me!) 
The best place on a cruise ship to avoid seasickness is in the middle of the ship on a lower deck. Avoid the upper decks and forward staterooms because they will get the most exposure to the waves and motion. 
Newer and larger ships are best to combat seasickness because they have better stabilizers. 
If you are concerned with the possibility of seasickness make sure you purchase motion sickness patches for your trip. It will be much cheaper to have them with you in advance than to purchase them on the ship. 
What do I need to bring with me on a cruise?
Health items:
Aside from everything I've mentioned previously, the one thing you really need to bring with you is a first aid kit with the basics. Trust me, you don't want to visit the doctor on the ship (cha-ching) and you don't want to purchase over-priced over-the-counter medicine from the store onboard. 
When I went on a cruise in Hawaii it turned out that I was allergic to the volcanic ash that was in the air. I bought out ALL of the allergy medicine they had onboard for 10x the price that it normally costs. 
Also… too much sun, fun, and drinking might lead to needing some hangover remedies. Make sure you bring some hydration accelerator pouches!
Items to bring off the ship:
Bring a refillable water bottle so you can take some water with you when you have your excursions off the ship. You also need a phone charging bank on your day excursions because taking pictures and videos will use up a lot of battery on your phone. You don't want your phone to die when you are trying to get a ride back to the cruise ship!
Clothing/laundry items:
Water shoes are great for days at the pool or spa area. It can get slick in areas where it is always wet.
Be sure to pack some sink suds laundry detergent just in case you need to reuse and wash an article of clothing in your room. (Of course, I learned this the hard way.)
Bring some wrinkle-release spray or a mini steamer because your clothes will wrinkle in your suitcase or in the tiny closet they provide. You want to look your best on the formal night for professional pictures!
MSC Cruise Review: Is an MSC Cruise right for you?
I've told you all about what you can expect with an MSC Cruise so now it's time to decide if MSC is right for you. In my opinion, it is a great experience if you want a cheap one-week cruise without the upgrades, or if you want to cut back on the cost of the cruise so you can afford to go all out on the excursions. (That's what I do.)
US News and World Report ranks MSC #4 in best cruise lines for the money.
It is also a great option if you want to stay at the Yacht Club and have the ultimate luxury cruise experience. If you are in the middle of the road then this cruise line might not be the best option for your next cruise.  
As always, make sure you read lots of MSC Cruise reviews before you make any decision. Type in a specific ship name into TripAdvisor to see customer feedback. Also, Cruise Critic is a great company that offers a TON of very helpful feedback. 
Would I cruise on MSC Cruise Lines again? I would if I need to cut costs OR if I can afford to stay in the Yacht Club because now I know what to expect. Hopefully, after reading this MSC Cruise review with ALL the details you will be less surprised too!  
If you liked An MSC Cruise review with ALL the details, then you might also want to read How to Use the Metro in Europe so you can navigate around on your excursions.
SUBSCRIBE with your email to get notified of new posts.
Don't forget to SHARE and PIN for later!
LET'S CONNECT: After reading "An MSC Cruise review with ALL the details" do you think you'd try this cruise line? Comment below!