I'm sure at some point you have taken a traditional vacation, or at the very least a day trip. What if I told you that you can take a day trip (by virtual tour) to Rome from your home? There's no need to find your passport because I'm going to show you how you can make that happen. Get ready to learn How to Travel Virtually: From your Home to Rome! 
In 2018 I spent 3 amazing days in Rome. I've really wanted to go back to Italy, but it doesn't look like that's happening anytime soon. Thanks to inspiration from virtual tours on Pinterest, I created a virtual travel section.
Next, I decided to surprise my children with a virtual  tour to Rome, Italy. I know that if I get excited about something, then that excitement is contagious. So I decided it was time for (cue the hype) our first #virtual #quarantine #staycation!!
I'm the kind of girl who LOVES a theme. If you give me a theme I will EMBRACE the details, and our virtual tour was no exception. If you've read my About page then you know my last name is Capone. Therefore, it's no secret that I'm Italian. The best part about being Italian is…. the FOOD! For our virtual tour to Rome to be authentic, I had to have too much food. Therefore I had: assorted olives, cheeses, artichoke, roasted red peppers, grapes, nuts, bread, salad, lasagna, and cannoli cake. My son saw all of the food but he didn't think it was unusual, because that's what happens when you're Italian. 
When my daughter was trying to figure out what the surprise was, she said her clue was my outfit. I wore my "European outfit" as opposed to my "quarantine outfit". Apparently the red jeans with a black and white striped shirt tipped her off. (I told you that I really embrace a theme.)
Once I said, "Alexa play Lou Monte Radio on Pandora" it was confirmed that we were going to be in Italy. My grandfather would listen to Lou Monte and Louis Prima and that Italian music ALWAYS makes me happy.
The post "How to Travel Virtually: From your Home to Rome" may contain affiliate links. That means if you click and buy, I may receive a small commission (at no cost to you). All opinions are my own and no products were received in exchange for my opinions. Click here to see details of my full disclosure policy.
Now it's time to see... How to Travel Virtually: From your Home to Rome! 
The first order of business on our virtual tour to Rome was to sit and eat until we were stuffed. The children accomplished that task pretty easily. After lunch we were ready to virtually walk off those calories with our first  virtual tour. I had the websites I'm going to share with you ready on my computer. Next, I connected my laptop to the TV with an HDMI cable and then we were ready to start our virtual tours. 
FONTANA DI TREVI (TREVI FOUNTAIN)
The first place we "visited" was the Fontana Di Trevi, more commonly known as the Trevi Fountain. Below is a beautiful up close virtual tour of the fountain.  
This video is zoomed in so you can see many of the details of the fountain. When we saw this fountain in Rome there were TONS of tourists and it was difficult to get down to the front of the fountain for a better look, so the virtual tour was really great.
You don't have to fight through all the tourists to get a better look. The picture quality of this tour is excellent and the angle is centered RIGHT in front of the fountain. 
The Trevi Fountain is Rome's largest fountain at 85 feet high (26 meters) and 160 feet wide (49 meters). When viewing this virtually you can't really comprehend how big this fountain is. Tourists throw coins into the fountain because of the legend that says if you throw a coin into the fountain you will return to Rome.
The fountain collects about 3,000 euros per day and the money is used to help the needy. (Don't throw coins at your TV to capture that part of the experience.) 
CONCLUSION: The tourists gave the Trevi Fountain two thumbs up. 👍👍
I remember when we were by the fountain they were selling roasted chestnuts. My father used to roast chestnuts when I was a child and I loved them. It was one of my favorite Christmas traditions when I was younger. I wish that we had chestnuts for this part of the virtual tour, but unfortunately they aren't in season right now. 
Visiting in Person? Here are links for some AMAZING Trevi Fountain tours:
The next stop for our virtual tour through Rome was the Colosseum. When we were in Rome we purchased a "skip the line" fully guided tour, so I was interested to see how the virtual tour would compare.
The Virtual Colosseum walking tour in 4K starts by exiting the metro station. This 1 hour walking tour gives you the full experience, with the bustle of tourists everywhere and sirens blaring in the background at times. The first 50 minutes of this virtual tour are strictly the Colosseum.
At the end, the guide walks past the entrance of the Roman Forum and briefly and shows you the Arch of Constantine up close. Honestly, this was my absolute favorite tour from How to Travel Virtually: From your Home to Rome.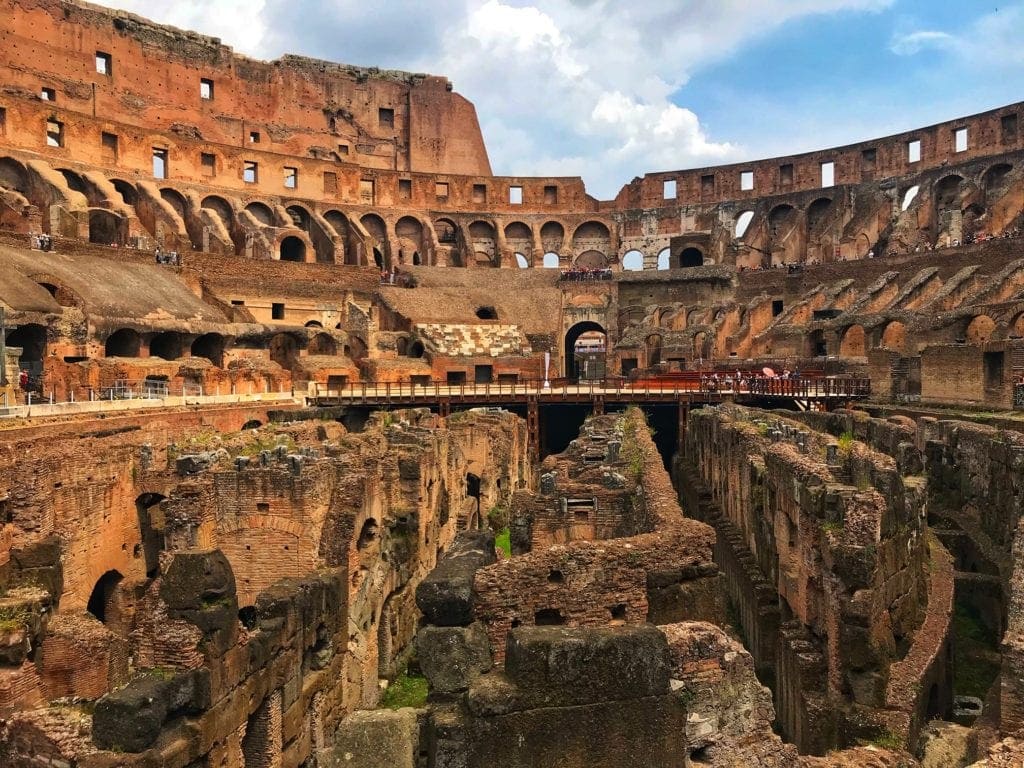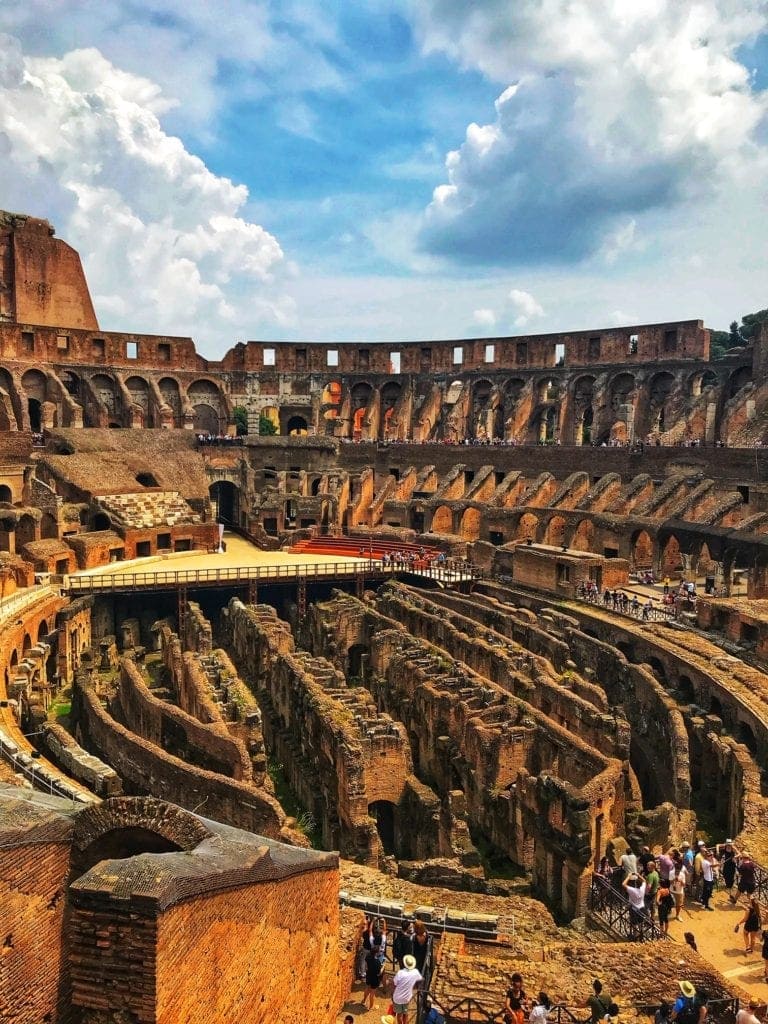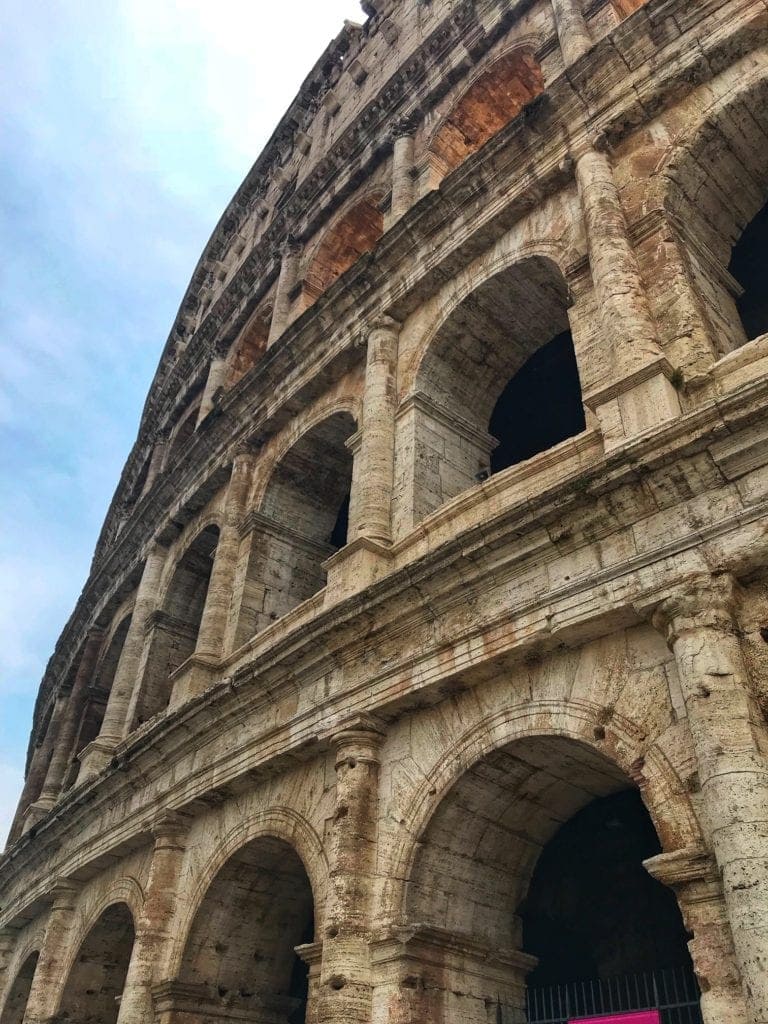 The most obvious pros are that this tour is free and you don't have to wait in line. You also get a lot of the same benefits of having an actual guided tour, because there are subtitles with lots of information that pop up on the screen. As the guide is walking, monuments like the Arch of Constantine, are pointed out with text. 
With our tour of the Colosseum at times we had to wait for people in our group. There was one unruly child that made it more difficult to hear the tour guide when she was speaking. The virtual tour didn't have any of those issues. 
This tour was in constant movement and it even showed areas that we didn't have access to on the tour we paid for. The virtual guide was on the underground level showing you areas the general public doesn't go. He also takes you to the upper terrace area and we didn't get to see that when we were there. 
Obviously actually seeing a historical monument like this in person is an amazing experience. Nothing beats seeing something and being able to take your own photos. I learned all about the Colosseum in my Architectural History classes in college, so actually seeing this in person was like a dream come true for me. 
While the virtual guide does an amazing job of the tour, I can see how it might be difficult for some people to watch because of the constant motion. If you are someone who has issues with motion sickness, this virtual tour might not be something that would work for you. 
It might be difficult to read the subtitles, have the motion, and try to watch the walking tour all at the same time if you have never been to the Colosseum before. 
CONCLUSION: The tourists gave the virtual Colosseum tour two thumbs up.
Visiting in Person? Here are links for some AMAZING Colosseum tours:
St. PETER'S BASILICA and the VATICAN MUSEUM:
When we were in Rome we purchased "skip the line" tickets for St. Peter's Basilica and for the Vatican Museum. It was sold as a package deal. (Just so you know, there is still a line that you will have to wait in. You are just skipping the REALLY long line when you purchase that option.)    
The St. Peter's Basilica's walking tour in 4K is approximately 20 minutes long. 
The Vatican Museum tour is a 360 degree self guided virtual tour which has 7 rooms, including the Sistine Chapel, to view. You have to interact with your computer to make this tour work properly.   
It's free and you get to skip all of the lines. The St. Peter's Basilica virtual tour has a few subtitles, which will teach you some facts about the church.
The Vatican self guided tours are really cool because you can zoom in and really get to see details that you could never see in person. The other advantage is that these 7 tours don't have ANY tourists in the rooms so you really get to see every detail and you can take as long as you want to see them. When we were there it was PACKED with tourists and you didn't really spend much time in any one location so it is nice to have the opportunity to take it all in with this self guided tour. 
The virtual walking tour of the Basilica is in constant motion so it might be a problem if you have any issues with motion sickness.  Inside of the St. Peter's Basilica tour you really can't see many details in the church because it's too dark. I remember it being dark in person, but in the video it just doesn't give you the full experience.
The self guided tour of the Vatican might be difficult to navigate if you're not familiar with how to use that type of program. The other down side of the Vatican tour is that you aren't seeing the entire museum.
CONCLUSION: The tourists gave St. Peter's Basilica two thumbs down, 👎👎 and the Vatican two thumbs up. 👍👍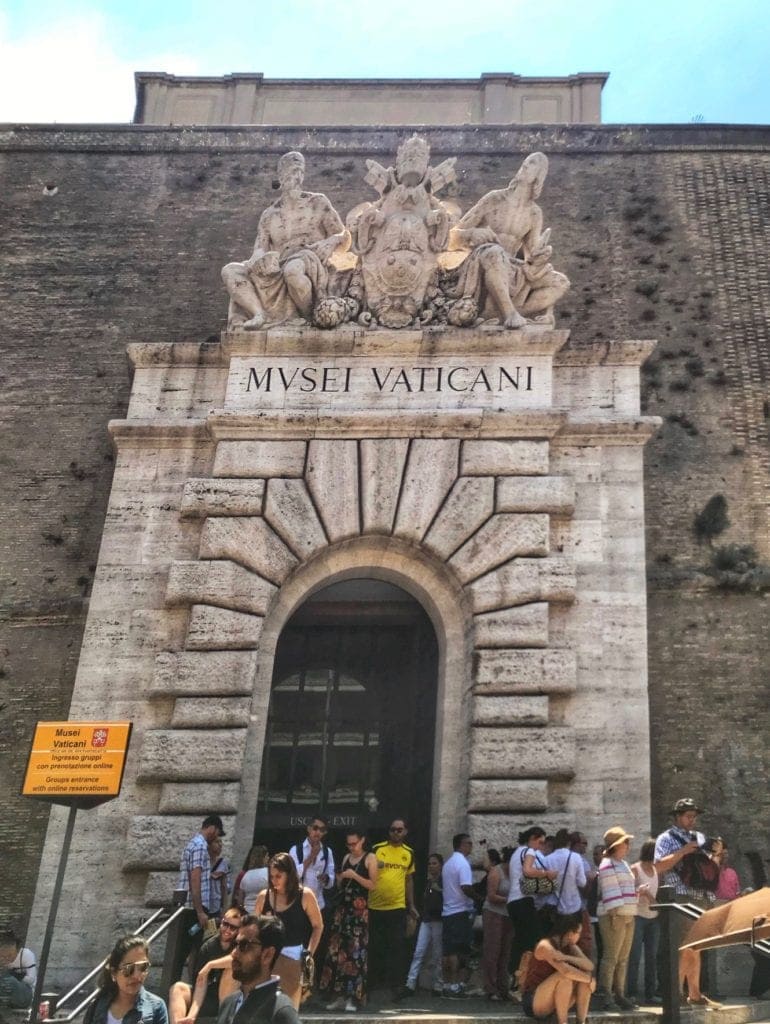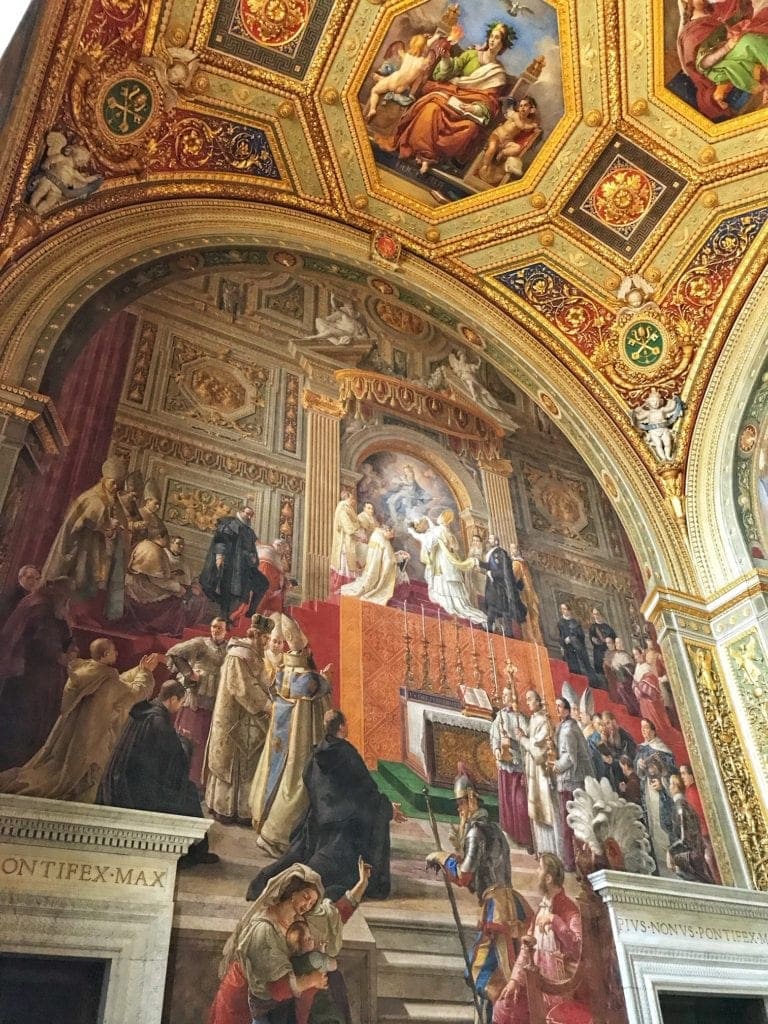 Visiting in Person? Here are links for some AMAZING St. Peter's Basilica and Vatican Museum tours:
 This virtual walking tour of Rome includes titles, captions, and maps for a 15 mile tour, which is almost 6 hours long! There's an index with time links to go directly to your desired location. That way you can skip to exactly what you want to see. 
We didn't actually watch this entire walking tour, because we walked it in real life when we were in Rome. I wanted to include it for you, in case you would like to maximize your virtual day trip. If you have never been to Rome, or if you really want to experience it virtually, I'd suggest watching this tour. It really helps you to make the most of How to Travel Virtually: From your Home to Rome. The guide does an amazing job of pointing out monuments and giving information in the subtitles about what you're seeing. 
We had this playing in the background while we ate our cannoli cake and played the card game Rummy. (That is the game I remember playing with my Italian grandparents. Therefore, I figured we should play it during our virtual day trip from home to Rome.)
Overall we all had a great time! Now we can virtually check this off of our bucket list. 
Visiting in Person? Here are links for more AMAZING tours of Rome that DON'T involve walking:
We did this tour in Rome and we LOVED it! They provide an audio headset that tells you about the sites in your language. I've mentioned in Top 10 things to See and Do in Nashville Tennessee that we ALWAYS do the Hop on Hop Off Bus tours when we travel because it helps us to see what the city has to offer. It's also a great way to get around the city! 🎟 Click HERE for Tickets 
Walking tours are not your thing? Great news… you can take a 2 hour private tour of Rome's top attractions by Segway. In my post "10 Unforgettable things you Need to do in Savannah Georgia" I shared about our Segway tour. It is SO much fun to tour that way! 🎟 Click HERE for Tickets
I mentioned in 6 Awesome things to do in Vegas, Besides Gamble that I LOVE taking daytrips when I'm traveling to a popular tourist destination. Sometimes it's great to go somewhere less crowded. This daytrip is a PERFECT break for when you are tired from walking to see the sites. It includes hotel pick up and drop off, lunch, and a guided wine tour. You can't go to Rome and not take a wine tour! 🎟 Click HERE for Tickets
I use Get Your Guide to plan adventures for our trips. I know I can trust them, and I can store all of my trip tickets and info in one easy to use app. Click the banner below for more tour options.
If you liked How to Travel Virtually: From your Home to Rome, then you might also like: Tips for Your 1st Time in Rome, Italy.
SUBSCRIBE with your email to get notifications about new post.
Don't forget to SHARE and PIN for later!
LET'S CONNECT: This was our first virtual trip. Do you think you've learned enough about How to Travel Virtually: From your Home to Rome to give it a try? Comment below.