You'll be surprised by how much there is to do in the city of Helen Georgia, the BEST German town in America. This Bavarian town in Helen will have you forgetting that you are in the United States and feeling like you just arrived in a German village. It won't take you long to see why this popular destination is Georgia's 3rd most visited city!  
Helen, Georgia is approximately 2 square miles, but don't let the size of this tiny town fool you. When you come into town you're immediately captivated on the drive through Main Street by the Bavarian architecture.
This small town has something for EVERYONE. I recently visited with my daughter and we loved it! Ready to find out where to stay, what to see & do, and where to eat in Helen Georgia, the BEST German town in America? 
The post "Helen Georgia, the Best German Town in America" may contain affiliate links. That means if you click and buy, I may receive a small commission (at no cost to you). All opinions are my own and no products were received in exchange for my opinions. Click here to see details of my full disclosure policy.
Where to STAY in Helen, Georgia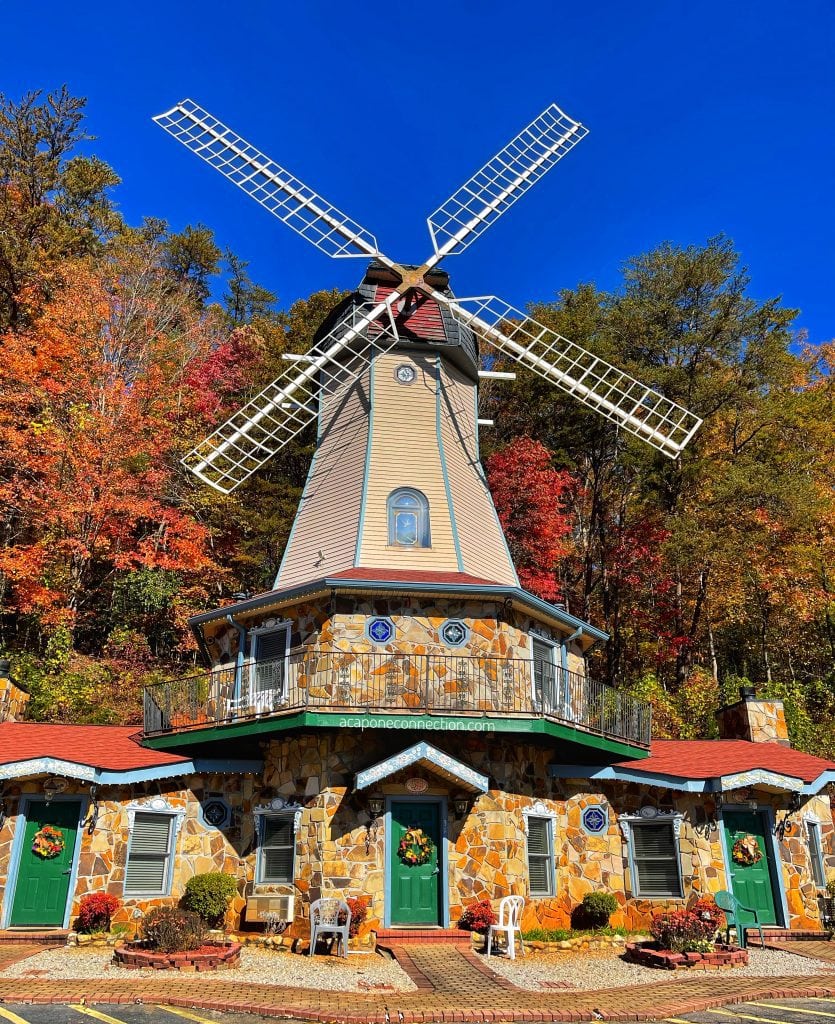 As I mentioned, Helen Georgia is NOT a large town. There are several places to stay right in the city, which is really convenient for walking the cobblestone alleys to all the best places. As you might have guessed, it's not as cheap to stay in town, BUT I think it's TOTALLY worth it if you are able to.
The Heidi Motel:
Your family will have a great time at this German inspired motel. It has a huge windmill out front, which is great for a photo opportunity. The Heidi Motel ranks #5 out of #19 hotels in Helen on TripAdvisor. It is located toward the edge of town.   
There are so many German themed places to stay, which makes the experience even more fun. Keep in mind that most of the lodging is based on a novelty, so they are not typically updated, but they are fun!      
Hampton Inn Helen:
I stayed at the Hampton Inn Helen because it was a good price, good location, and the reviews helped me to know that it was clean. On TripAdvisor it ranks #6 out of #19 Hotels in Helen. It is located toward the edge of town, and it was a great place to stay.   
As a member of Hilton Honors, staying at this hotel helped me to earn points for discounts and perks on future stays. One of the things I like about being a member of Hilton is that they offer a discount to military families.    
If you stay outside of town you will have to drive approximately 20 minutes to get there, sit in Main Street traffic, and then pay for parking. You DEFINITELY want to see Helen in the morning AND at night when it's all lit up. Staying in town allowed me to easily run back to the room to drop off food, change my clothes, and take a nap in the afternoon. (There are LOTS of wineries and German beer in Helen, so day drinking might lead to afternoon napping.)   
Now that you have a place to stay… let's explore Helen Georgia, the best German town in America!  
What to SEE and DO in Helen, Georgia
There is SO much to do in this little town, with different types of activities for everyone in your group. You can expect to find: souvenir shops, nature to explore, mini-golf, beer & wine tasting, a waterpark, ziplining, mountain rollercoaster, train ride, carriage ride, and more in the heart of the Blue Ridge Mountains!
We only spent two days in Helen, so we focused on shopping, exploring nature, and eating. Here's a video of the highlights from a weekend in Helen. 
Shopping in Helen, Georgia
If you like shopping then you are in the right place. Helen, Georgia has over 200 specialty shops. I LOVED shopping there because each of the shops were unique and most of them had products that were locally made. There were several stores in Helen that offered a military discount, so my daughter was happy that we could take advantage of that perk. 
Honey on the Hill: 
This was our FAVORITE store in Helen! Honey on the Hill represents so many things that I appreciate. The owner, founder, and head bee keeper is a veteran, and this store offers a military discount, which is greatly appreciated. This is a local business that sells quality, all natural products, that are locally made.
This store had a variety of items and everything was SO CUTE! Aside from honey, they also have all natural beauty products, candy, candles, jewelry, and more. I bought the cutest earrings from a local artist!    
The best part is they have honey tastings and it was DELICIOUS. I bought a ton of Christmas gifts, and I bought plenty of things for myself as well. It's easy to find gifts and souvenirs at Honey on the Hill!  
Christmas Tree Shop: 
Helen Georgia, the best German town in America, is not just a popular location during the longest running Oktoberfest, but it is REALLY beautiful to see the Christmas lights at Christmas time. The town has even more lights and decorations than usual during this time of year. The Christmas Tree Shop is open year-round. TripAdvisor ranks it #26 of#42 specialty shops in Helen, Georgia.   
The Mason Jar Shop: 
This was my second FAVORITE shop in Helen. I was surprised that TripAdvisor ranked it #27 out of #42 specialty shops because it had SO many unique and cute gifts. The name definitely threw me off because it's really not about mason jars. They sell candles, jewelry, novelty souvenirs, food, Christmas and home décor, and more! I bought several gifts, and some things for myself while I was there. The coffee and gelato shop next door has amazing reviews as well.      
Alpine Olive Tree: 
If you've never tried olive oil tasting then you should! I've done it a few times and I like it. They also have vinegar to taste. The first time you try it, you think it's a little weird, but then it's actually fun!  TripAdvisor ranks the Alpine Olive Tree store #11 out of #42 specialty shops in Helen, Georgia. It's a great opportunity to try something new!       
Exploring Nature in Helen, Georgia
Although Helen is a cute town with lots of shopping and food, you might want to venture outside of the main town a little bit for some outdoor activities in the Georgia State Parks.
We would shop then take a short drive and go for a short hike in the afternoon. It was cooler in the woods when it was warm in town (and the crowds were the highest in town in the afternoon). There are two nearby waterfalls that are really pretty! Don't be afraid to venture outside of the downtown area to explore the Appalachian mountains.         
Anna Ruby Falls: 
This is one of the most visited waterfalls in  North Georgia and it's only 5.7 miles from the center of Helen. TripAdvisor ranks Anna Ruby Falls #1 out of #25 things to do in Helen, Georgia. It takes approximately 30 minutes for the light 1/2 mile walk to the top where the double falls are. This is a great option for some family fun. The path is paved and it's easy to navigate with a stroller.        
Admission for Anna Ruby Falls is $3.00 for ages 16+, but our admission was free because they provided a military discount. There is free parking on site and there's a picnic area available. They are open daily from 9:00 am – 5:00 pm. This child and pet friendly trail is a MUST SEE!        
Dukes Creek Falls: 
The first thing you will see when you arrive at Dukes Creek Falls is the amazing mountain view! TripAdvisor ranks Dukes Creek Falls #2 out of #25 things to do in Helen, Georgia. If you go around early November you will get to see the beautiful fall foliage. It is 5.4 miles from the center of Helen. Admission to the falls is FREE, but the fee for the parking lot is $4.00 per vehicle.